Wondering if the RV life is right for you? Or, perhaps, you're trying to convince a friend or loved one to give it a try? Here are our Top 10 Reasons why a growing community of people wouldn't live any other way.
10 GOOD REASONS TO BECOME AN RVER
RV-ing lets you reconnect with nature while still enjoying the comforts of home. There's no shortage of provincial and national parks across the country just waiting to be explored. And as an RV Care Customer Care Promises card holder, you'll receive 10% off your night's stay at any KOA campground across North America. (Up to 28 nights annually).
2. COUNT THE STARS INSTEAD OF SHEEP
Sleeping in a tent has its charm, but the morning stiffness and soreness, well, not so much. Consider upgrading to the superior comfort of an RV and a RV Care Traveler's Choice mattress! Already an avid RV-er? Upgrade your current mattress to a RV Care Traveler's Choice and immediately improve your sleep. You won't regret it.
Awaken the hidden wanderlust within and explore this huge country of ours! Take the unbeaten path, the road less traveled and the next hill where the grass might be greener. It's all possible in an RV! Or broaden the horizon wider still and voyage down south through the US and on to Mexico. In an RV you'll quickly discover the joy lies in the voyage, as well as the destination, and the destinations are virtually endless.
Sometimes less is really more. Discover the calming effect of living more simply, with less stuff and in a smaller space, even if it's only for the weekend.
5. RECONNECT WITH LOVED ONES
RV-ing allows you to reconnect with the great outdoors, but also with the ones you love. Whether it's time spent sharing the scenery or around the RV table playing board games, or kicking back relaxing by the campfire, the RV life brings people together.
Of course, RV-ing can also supply another commodity in short supply: time for oneself. An RV makes getting away from it all so easy and fun. Time on the open road alone can help make the path in your own life a little clearer.
If the weather is not cooperating, just pack up and move to a sunnier clime! The mobility of RV-ing means you can change the scenery on a whim and in a moment's notice. You could also join the league of seasonal nomads that head south to escape the cold of Canadian winters. And thanks to our Alliance partner, the Route 66 RV Network, there's help close by if any urgent RV repairs are required. Plus, you'll receive a 10% discount on all your Parts and Accessory purchases.
An RV-ing is for everyone, including the four-legged variety. Sniff and see the whole wide world together!
9. SO MANY PLACES TO SEE!
Unlike a traditional vacation, a travel itinerary is not required when you're RV-ing. There's no limit to the places you can visit, or the time spent in any one location. Like a feather in a breeze, you're free to float from place to place, seeing more and covering more ground as your heart desires.
10. EXPERIENCE LIFE OFF THE GRID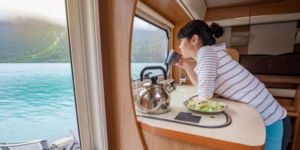 No WIFI, no problem. While there are many ways to stay in touch while RV-ing, it's also the perfect excuse to find a spot out of reach of cell phones and simply disconnect.
Take a look to see if renting or buying would be the best option for you!
See more of EXPLORING THE RV LIFESTYLE