The RV Traveler's Choice line of mattresses and bedding accessories are specially designed to help you get the best sleep of your life while living the RV experience.
We combine the pressure point free support of AquaGel memory foam with twin zones of motion-resistant pocket coils for luxurious comfort for you and your partner. QUEEN or RV QUEEN
Not your ordinary RV mattress! A budget-friendly option that features twin zones of motion transfer resistant pocket coils to provide proper support and superb comfort for you and your partner. QUEEN or RV QUEEN
Discover
All RV Traveler's Choice
Sleep Solutions
Whether you're a back, side or tummy sleeper, our special 100% polyester hollow fibre fill is not only hypoallergenic, but conforms easily to any sleep position.
Luxury Choice Micro-fibre Sheet Set
Say goodbye to damp cotton sheets! Our special microfibre blend stays dry and is super soft to the touch.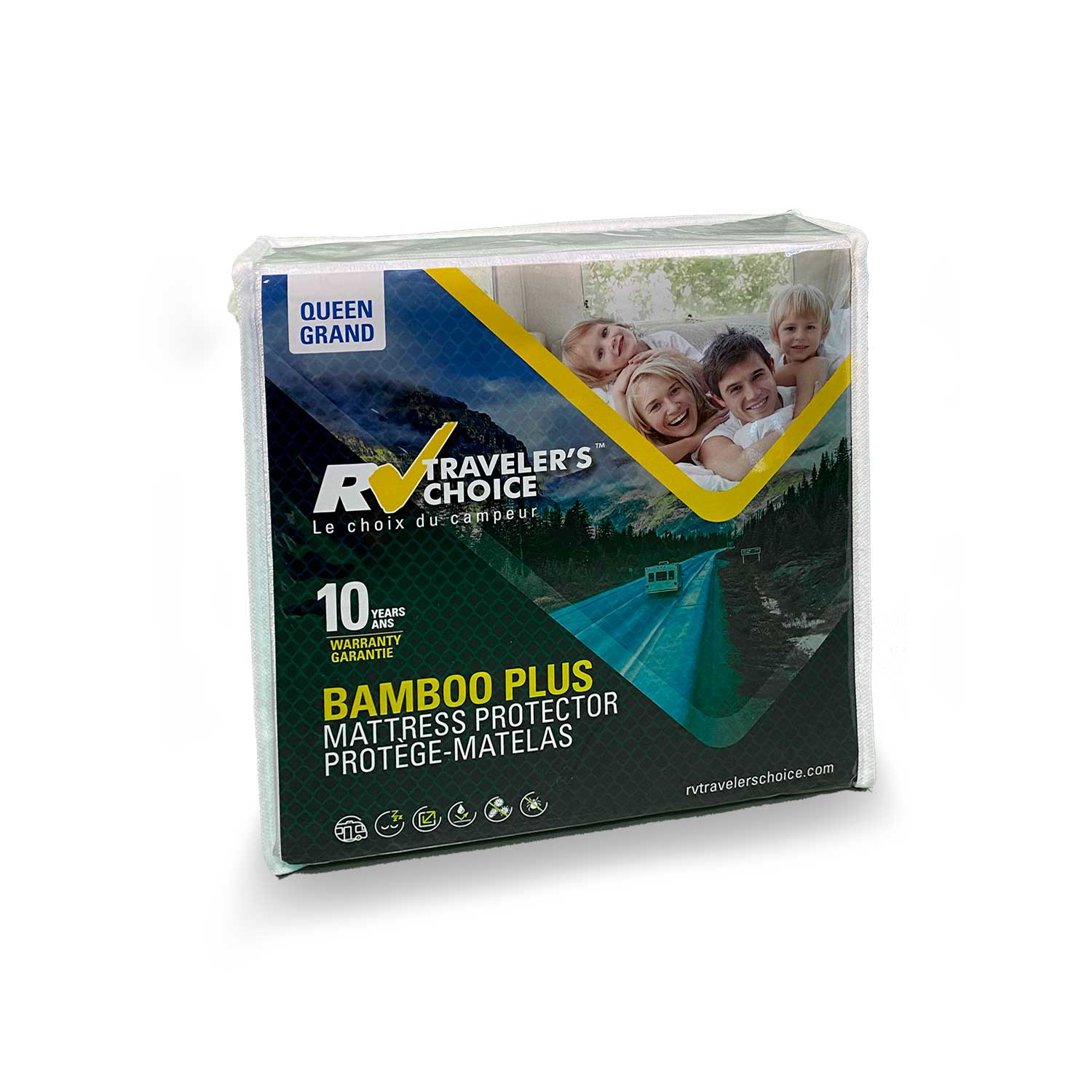 Mattress Protector Bamboo Plus
Made with all-natural bamboo fibres and a polyurethane membrane for a hypoallergenic and waterproof barrier. Plus, enjoy a 5 year warranty against accidental staining when purchased with a RVTC mattress. 
All RV Traveler's Choice
Sleep Solutions
The great outdoors and viewing new and beautiful landscapes are why we love RVing, but including a few creature comforts makes it even better and, while we're at it, how about a little fashion as well?
6-piece
Bed in a Bag Sets
Your choice of
2 fashion-forward patterns
Grey Plaid & Black Boho
Available in standard queen and RV queen sizes.
Our sheets are specially designed for RVing because there's nothing yuckier than damp sheets.
They are woven with hypoallergenic, moisture-wicking micro-fibres that stay dry.